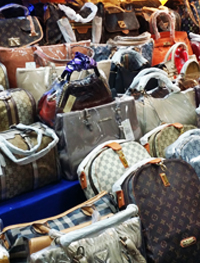 The Euro­pean Court of Jus­ti­ce ruled on 07.07.16 that the ope­ra­tor of a mar­ket­place can be forced to take mea­su­res to stop and pre­vent trade­mark inf­rin­ge­ment(Ref.: C‑494/15).
The case sub­mit­ted to the Euro­pean Court of Jus­ti­ce con­cer­ned the com­pa­ny Del­ta Cen­ter, which is the ten­ant of the Pra­gue mar­ket halls. This mar­ket is known for sel­ling various coun­ter­feits of dif­fe­rent brands. Del­ta Cen­ter lea­ses booth space at the mar­ket to mer­chants under. Some well-known trade­mark owners now tried to get the Czech courts to stop Del­ta Cen­ter from sub­let­ting to retail­ers who com­mit trade­mark inf­rin­ge­ments. The­re is a direc­ti­ve on legal action against inter­me­dia­ries who­se ser­vices are used by third par­ties to inf­rin­ge trade­mark rights (Direc­ti­ve 2004/48/EC). In this regard, the Euro­pean Court of Jus­ti­ce had ruled in 2011 that ope­ra­tors of online mar­ket­places are obli­ged to ter­mi­na­te and fur­ther pre­vent the inf­rin­ge­ments on the basis of the Direc­ti­ve ("L'O­re­al" Ref.: C‑324/09). In the pre­sent decis­i­on, the Euro­pean Court of Jus­ti­ce has now appli­ed the­se con­side­ra­ti­ons to off­line mar­ket ope­ra­tors. Accor­din­gly, an eco­no­mic ope­ra­tor who offers a ren­tal ser­vice to third par­ties on a mar­ket­place, ther­eby offe­ring the third par­ties the oppor­tu­ni­ty to sell coun­ter­feit goods, con­sti­tu­tes an "inter­me­dia­ry" within the mea­ning of the Direc­ti­ve. Whe­ther the mar­ket­place is online or off­line is irrele­vant in the case of this direc­ti­ve, as its scope is not limi­t­ed to e‑commerce.
Fol­low
The orders issued against an inter­me­dia­ry for this pur­po­se must be just and pro­por­tio­na­te. Thus, they must not be too expen­si­ve and must not rest­rict legi­ti­ma­te trade. Con­stant, gene­ral moni­to­ring of dea­lers can­not be requi­red. Howe­ver, mea­su­res must be taken to pre­vent a retail­er from repea­ted­ly com­mit­ting trade­mark inf­rin­ge­ment. A balan­ce must be achie­ved bet­ween pro­tec­ting intellec­tu­al pro­per­ty and pro­tec­ting legi­ti­ma­te trade from rest­ric­tions.
If you have any ques­ti­ons regar­ding trade­mark law, plea­se feel free to cont­act us by pho­ne at 0221–4201074, by e‑mail at info@rehkatsch.de or make an appoint­ment with our office.